Virtualgoodsdealer Creators: Dairysam
What stands out immediately about Toronto-based multi-media artist dairysam's work is the colorful and whimsical character designs. We spoke with dairysam through video chat and email to get to know the creator behind the zines, figurines, and illustrations. They are the latest creator to work with us; we released select pieces by them on virtualgoodsdealer products last month on March 25th.
I really like the phrase, "Jack of all trades, master of none but better than one".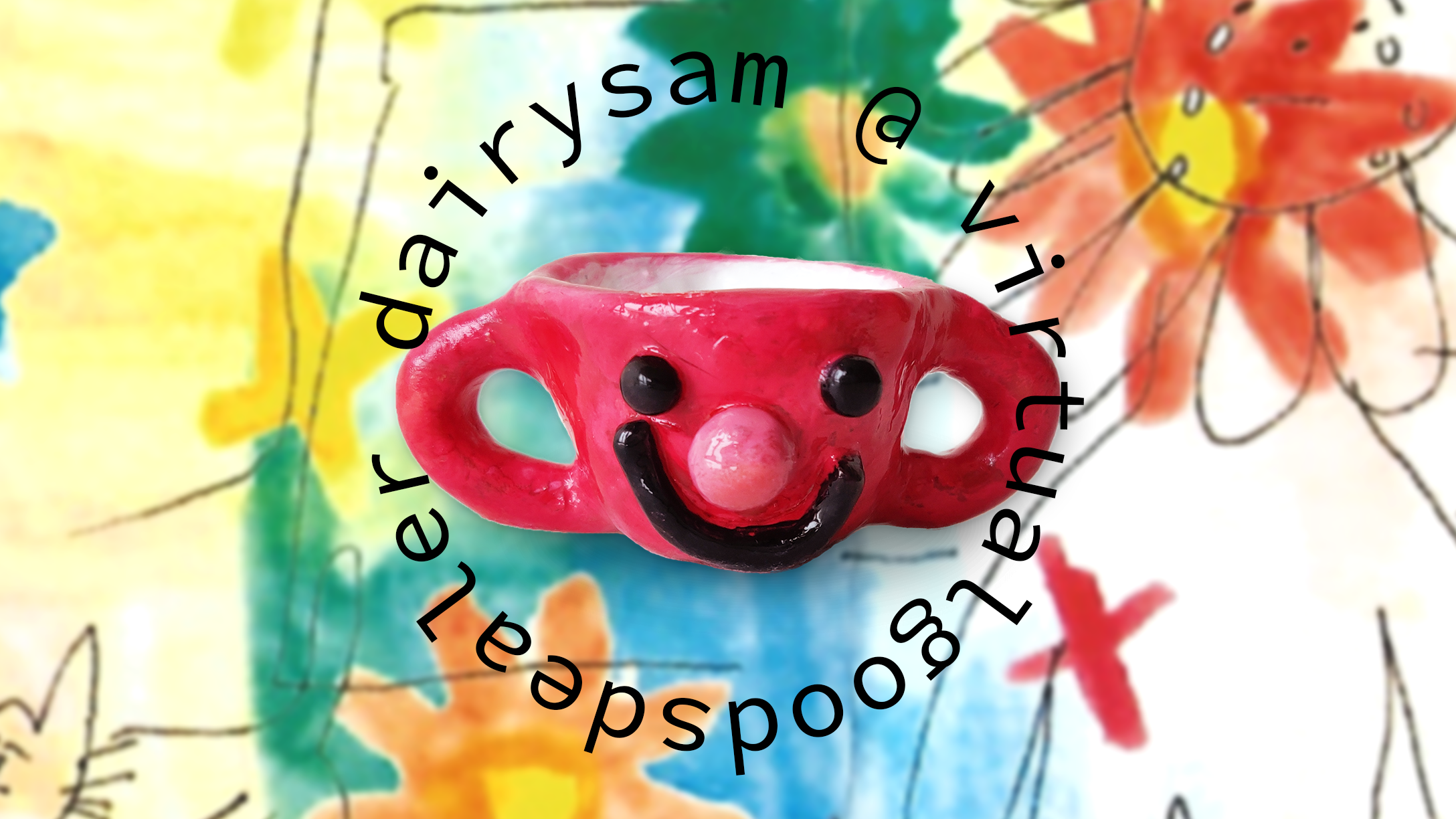 When did you start making art? And when did you know that you wanted to be an artist?
Sam: I started making art since I was a kid! According to my mom, I would spoil all the walls with crayon drawings. I always doodled and did paper crafts, but got more serious in 9th grade and started teaching myself other techniques and going to free workshops. I knew then!
You mentioned before that you sold at zine fairs. What was that like and how has zine fair culture evolved in light of Covid-19?
Sam: I started selling in Zine fairs pretty recently! One year before Covid only. When the pandemic hit, I didn't really sell at the fairs as they would charge for admission even though it was online. I only sold online personally through Instagram but would make fewer sales.
You are an especially multi-talented artist creating in many mediums including painting, zines, poetry, sculpture, jewelry, sewing craft and more. In what ways does having such a broad scope impact your overall creative practice?
Sam: I really like the phrase, "Jack of all trades, master of none but better than one". I always felt that I rather only be average at multiple arts than be best at one? I liked seeing my art style applied to different formats, and incorporated with different textures, colours, time and space. Plus you learn more about other mediums and can see if it's a fit for you.
Would you encourage other artists to branch out more?
Sam: I definitely think all artists should try other mediums! They might end up loving it!
How has social media impacted your creative practice?
Sam: Social media definitely impacted me, in both good and bad ways. Sometimes I find myself comparing myself to other artists, which I know is unhealthy. However, I also find artists who inspire my art and make me think of more creative ways I can do things, or opportunities for calls for artists, or just making friends and collaborations with other artists! These help me expand my art.
How would you want to change the way that the internet is used?
Sam: I think the internet should be used in a very open way, sort of how it was like at the beginning. A lot of people could just own domains, experiment with Flash, and would make art just for the sake of making art. Now it's all corporate and limited, like not being able to customize your shops or social media!
Any artists or pieces that are especially inspiring to you?
Sam: I really love a lot of artists! Ginette Lapalme, Lil Nas X, Jennifer Xiao, Kendra Yee, Vincy Lim, Gabby, etc !!
What's your favorite movie?
Sam: I love so many movies!! I really love The Handmaiden, Only Yesterday, Do Dooni Chaar, Scream, Josie and the Pussycats, Moonlight
What's your favorite meme?
Sam: S….Shrek.. somebody once told me…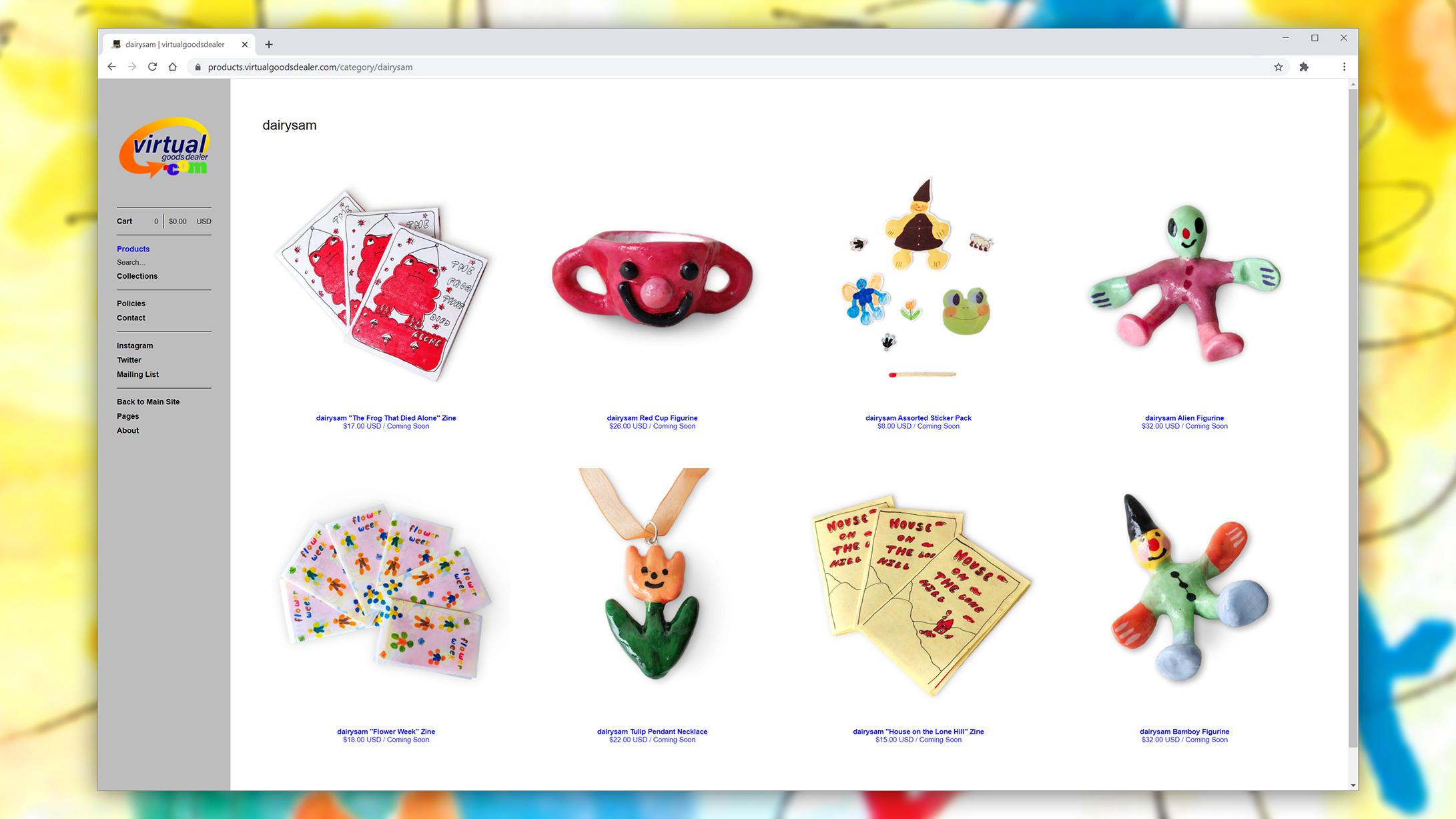 Select pieces by dairysam are currently available at virtualgoodsdealer products. The collection contains handmade zines, painted polymer clay figurines, and handcut paper stickers starting at $8.